2 Methods to for your pets to avoid the obesity. If you don't want your pet to be tease as "Is that a dog or a pig?" please read below.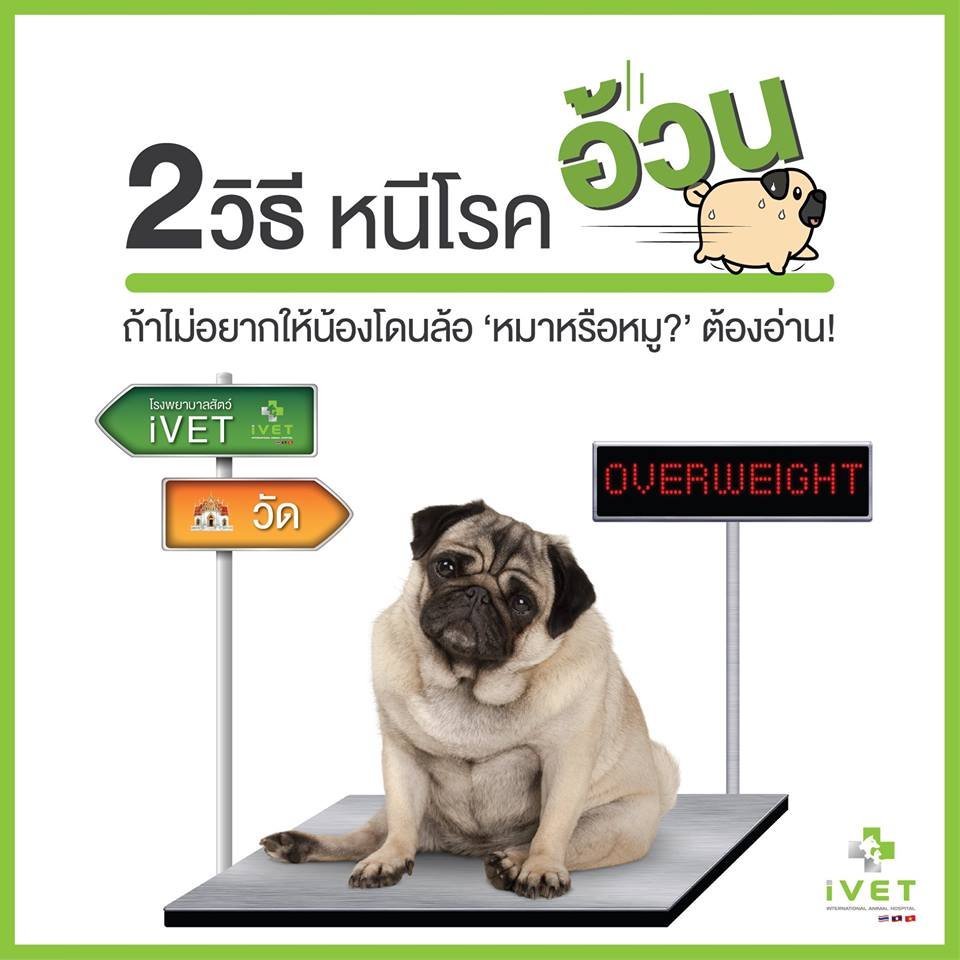 .
"You got to pick if you want to be a dog or a pig!" This is something to worry about your pets when they are getting chubby! Many owners love their pets when they are chubby because they look cute right? Let me tell you this, once your pets face obesity, it is really hard for them to get out of it!
.
'Obesity' is more dangerous than you thought. For example, your pets might not be able to move agile as they were. Obesity can also cause a decadent hip, exhausted, hard to breathe, high risk to liver disease as a result of hepatic lipid accumulation. As this hot weather, your pets can feel uncomfortable as well. They also have a high risk for diabetes, heart disease, and bladder stone.
.
How do you feel about these diseases caused by the obesity? Today we, the physical therapist from iVET Pet Wellness Center, will give you advices on how to prevent your pets from obesity with a very simple method.
.
1. Diet controls
The best way to help your pets with obesity! (Have to do it the right way). The weight loss program should be conducted under vets' care because vets will control the amount of daily food your pets can consume. Therefore, we can control their diet as we targeted.
.
The best weight loss is around 1-2% per week. The food we would suggest for the weight loss is the instant food for weight loss purposes, which can comes as pellet or in a can. These food has low fat but high fiber, which means your pets still have the same amount of food but does not have too high of calories. These instant food can fill up your pets with high nutrients that your pets need.
.
2. Work out
This way can help your pets to be strong as we are. The best work out way for your pets is "Hydrotherapy" which use the characteristic of water to help with their movement. This is good for your pets who are big or have a problem with their bones and joints. This can also help pets with the problem with their nervous system
.
Hydrotherapy help with bending and stretching your joints more freely in the water. This will help absorb the impact to their joints, better than onshore. Nowadays, Hydrotherapy is very popular. There are many method that also use water such as swimming and Under Water Treadmill (UWTM)
.
The "WOW" story that we would like to share with you is that, by letting your pets to swim for a few minutes is like taking them out walking for 2-3 kilometers! This will help them deal with stress and make them feel fresh in this summer too.
.
Don't forget that "this is your dog, not your pig!" We can comfort them but not letting them eat everything they want. This is for their own health, so that they can stay with us longer.